The mobile app of the CoronaSurveys project is already available
The mobile application of the CoronaSurveys project, which includes the participation of Carlos Baquero, researcher at INESC TEC and UMinho's High-Assurance Software Laboratory (HASLab), is already available for Android and iOS; the initiative is taking place in 150 different countries.
28th July 2020
This research aims to monitor any increase in the number of positive cases of Covid-19, in order to prevent outbreaks or setbacks that could lead to new a lockdown.
In this sense, the team of researchers provides an online survey, which is now available in 60 different languages, and accessible by anyone through computer or smartphones.
During the initial stage, the respondents were asked to complete a survey with three questions: from which geographical area can you provide data, how many people do you know in the area and how many people in that area do you know who have Covid-19 symptoms or who may have had contact with the disease? The newest version of the survey includes a question about recent cases, in order to identify possible outbreaks. "In this version, we've created a new estimator of active cases in the transmission phase, which helps monitoring the evolution of the pandemic in several countries, and calculate a global risks map", said Carlos Baquero.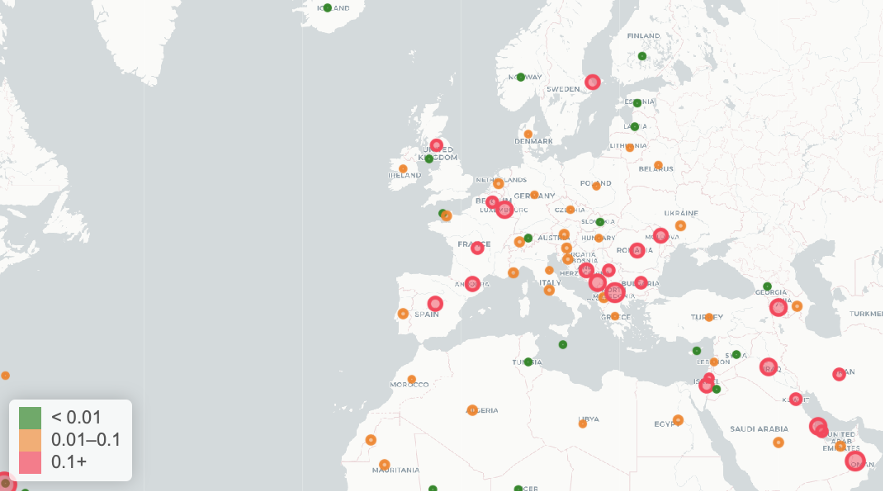 According to the answers obtained, the data are processed and managed to eliminate outliers, using statistical techniques. The results are updated on a daily basis, and one can check them here. The project has recently provided estimates of the number of active cases in the transmission phase, also identifying the expected proportion of undetected cases (based on the mortality ratios), and a world map that displays the current risks of contagion, according to said estimates.
It is important to mention that the research carried out within the scope of the CoronaSurveys project is completely anonymous, and the participants and patients are not required to provide personal information. Furthermore, the biggest challenge of the project "is disseminating the project in order to gather information from the different countries. The team hopes that the risks map will support this process", added the researcher.
Antonio Fernandez Anta, researcher at IMDEA Networks, a Spanish institute that focuses on data networks, is the leader of the project's team. In Portugal, the team is composed of Carlos Baquero and Raquel Menezes, who is also a lecturer at UMinho.
The INESC TEC researcher mentioned in this news piece is associated with UMinho.