Spotlight on European Supply Chain and Logistics Innovation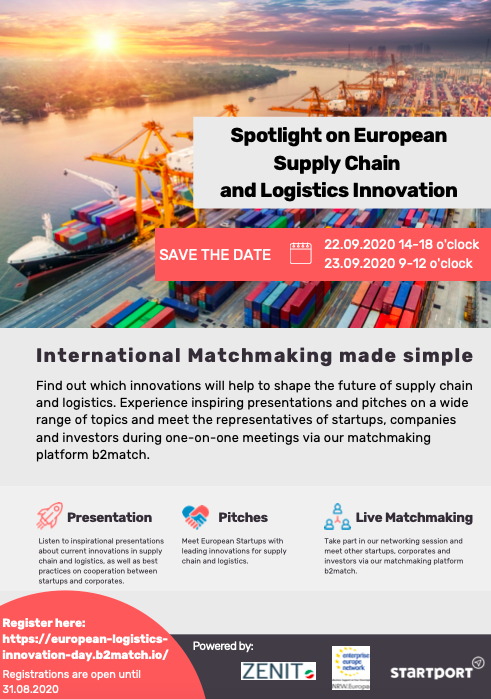 The international Digital Matchmaking Event, offered as an online format, will be held on 22nd and 23rd of September 2020. Organized by Startport GmbH and ZENIT GmbH and supported by the Enterprise Europe Network, the event will analyze the way digitalization and automation are changing the logistics industry.
Initially, during the online conference, experts will discuss the latest innovations in the area of supply chain and logistics, with a particular focus on successful cooperation between startups and companies.
In thematic sessions, startups can present and share their solutions in a wide range of topics related to logistics.
Through the b2match platform, participants will be able to attend a networking session that will enable the exchange of project ideas and explore the potential for cooperation with other startups, companies and investors.
The participation is free of charge and the language of the conference is English.
INESC TEC, as member and support office of the Enterprise Europe Network, is co-organising this event and is available to clarify any questions, to provide personalized support throughout the registration process, pitch preparation or to help you to schedule bilateral meetings. For that, please use the e-mail een-portugal@inesctec.pt.