INESC TEC highlighted at AED Days 2019
Speakers from BOEING, Airbus, Embraer, Bell Helicopter or OGMA; interventions from the Minister of National Defence, João Gomes Cravinho, the Secretary of State of Economy, João Neves, the Secretary of State for Internationalization, Eurico Dias; attendance of the AICEP President and the Ambassador of Canada at the networking dinner; conferences, workshops, B2B Meetings, pitches, technology exhibitions and industrial visits. The AED Days 2019 event had all this and much more.
13th November 2019
The event, which was organised by the AED Cluster Portugal that has INESC TEC as a member, was attended by 400 participants, who gathered at Taguspark, in Oeiras, between 28 and 30 October. This was a unique opportunity for the main national and international stakeholders of Aeronautics, Space and Defence in order to discuss the current and future challenges and to search for collaborations and partnerships.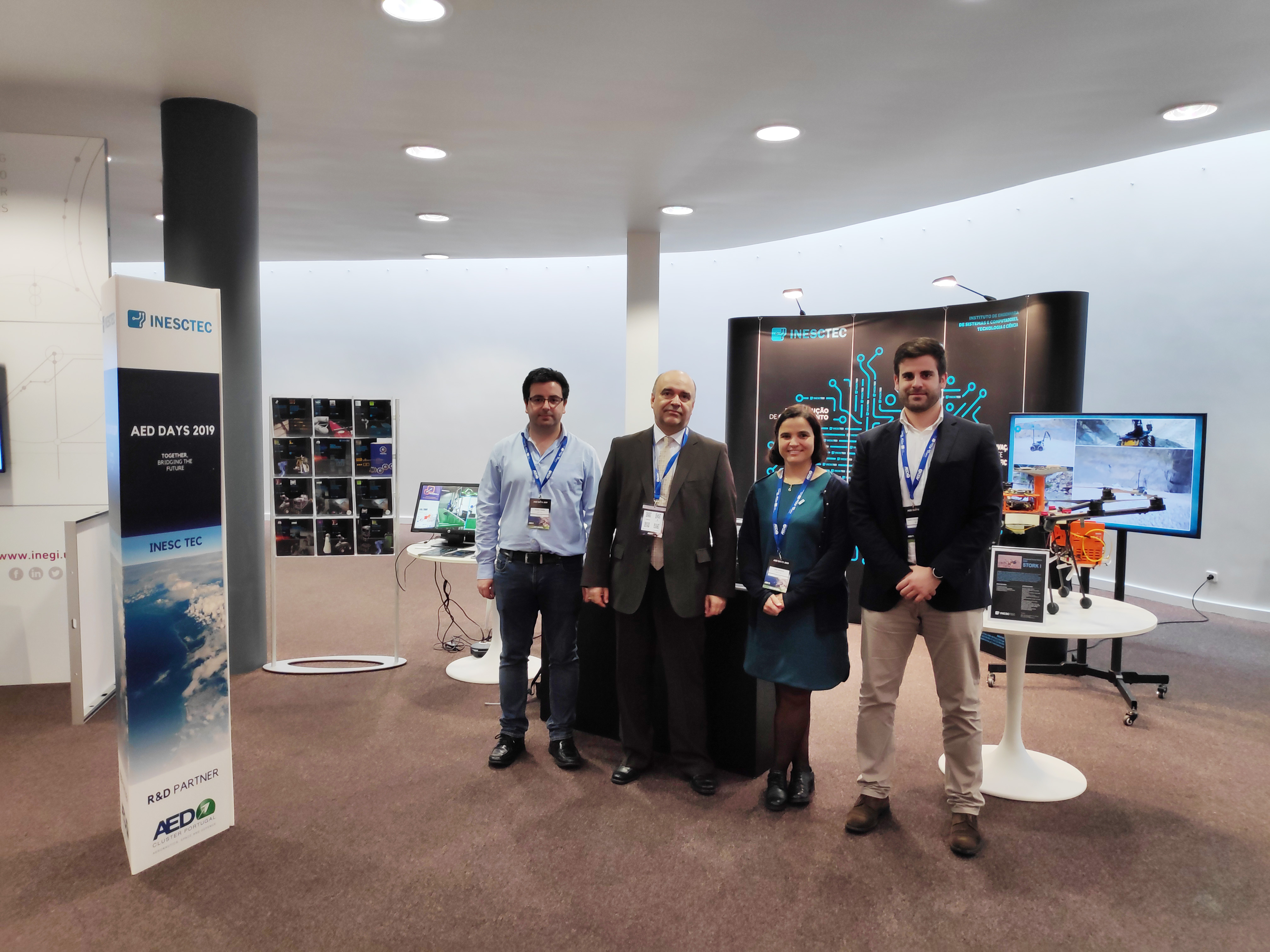 In this event, INESC TEC presented the most recent technologies to apply in Aeronautics and Defence, such as the unmanned aerial vehicle STORK I, a drone for the control and protection of marine environments and the autonomous underwater vehicle SHAD, a torpedo-shaped micro AUV designed to navigate in complex volumes.
The MareCom solution, a broadband maritime communications system for fishery, maritime transport and navy applications, was also highlighted. It should also be noted the presentation of technologies for the planning of operations for the Aeronautics and Space Industries, as well as the ScalABLE 4.0 project, which develops collaborative robotics integrated in production and simulation management systems.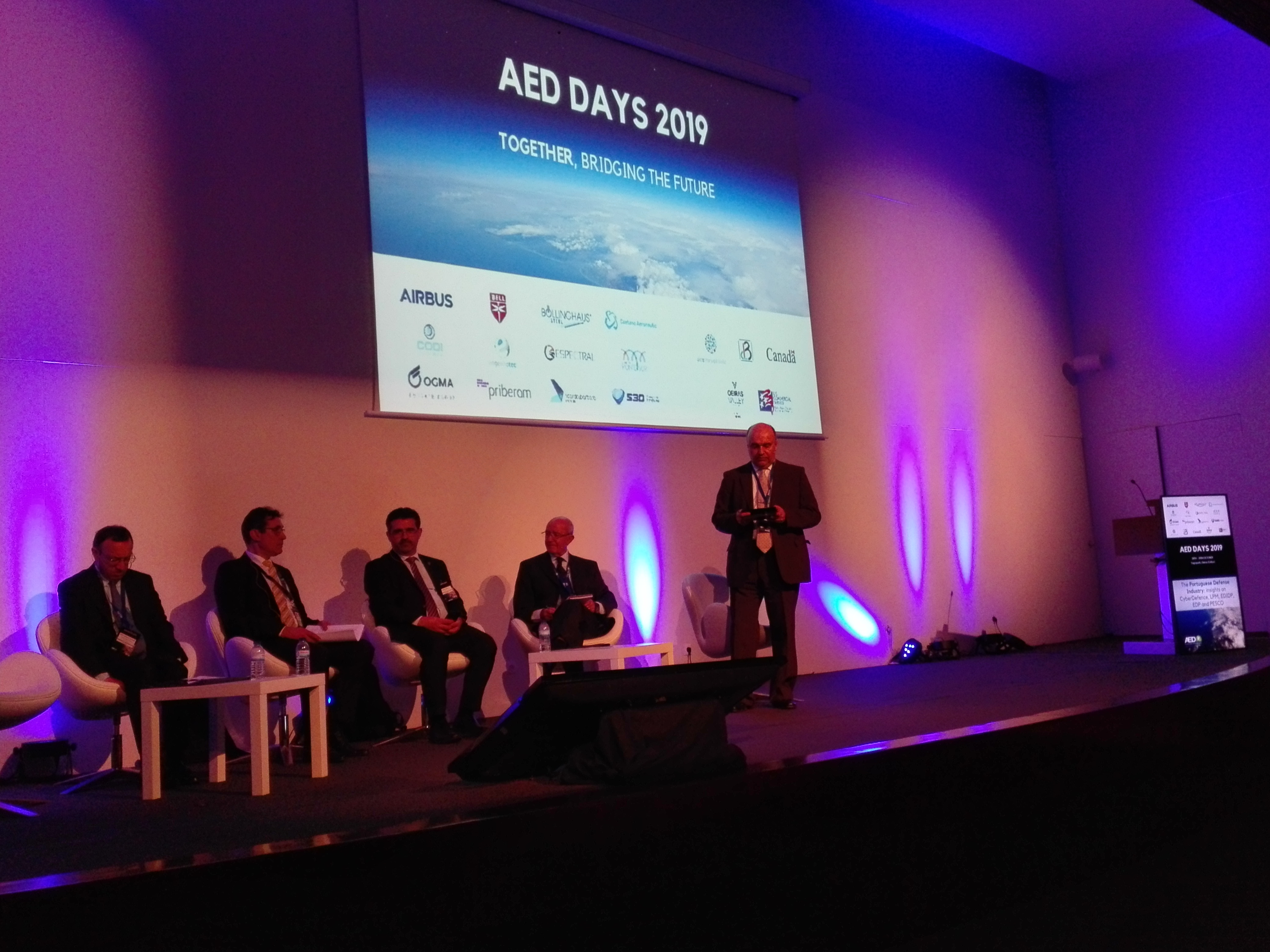 António Gaspar, coordinator of INESC TEC's Centre for Information Systems and Computer Graphics (CSIG) and Vice-President of AED Cluster Portugal, was the moderator of the workshop "Understanding the major challenges and opportunities for the Portuguese Defence Industry".
Besides António Gaspar, INESC TEC was also represented in this event by Ana Barros from the Centre for Enterprise Systems Engineering (CESE), Luís Pessoa and Hélder Fontes from the Centre for Telecommunications and Multimedia (CTM), Nuno Abreu from the Centre for Robotics and Autonomous Systems (CRAS) and Nuno Falcão e Cunha from the Centre for Industrial Engineering and Management (CEGI).
AED Cluster Portugal (AEDCP) was established in 2016 as a merge result of the associations DANOTEC, PEMAS and PROESPAÇO. It is a private non-profit organisation, recognised as a competitiveness Cluster by IAPMEI, and comprises 60 members between national companies and research centres.
The researchers mentioned in this news piece are associated with INESC TEC.
Credits of the opening photo: António Costa Lopes / MDN