INESC TEC develops tools do manage research data
A team from the Faculty of Engineering of University of Porto (FEUP) and INESC TEC developed two instruments to help researchers managing their data, avoiding losses and encouraging the exchange of information in international projects. These tools are being tested at the University of Porto (UP).
09th February 2018
DENDRO AND LABTABLET ORGANISE, DESCRIBE AND LINK DATA AND METADATA


The problem with data management
The research data management (RDM) is a subject high on the agenda of researchers and financing agencies. Researchers came to the conclusion that papers with associated data have more quotes, and that valuable data attract cooperation projects. The European financing agencies are including in their regulations data management plans and the obligation to share them.
"There is a large amount of data that is lost every year by scientists, due to the lack of instruments to manage it", explains Cristina Ribeiro, researcher at the Centre for Information Systems and Computer Graphics (CSIG) of INESC TEC, also leader of the TAIL project, in which this development is being done, and João Rocha da Silva, responsible for the team that develops these applications.
In this sense, data management is crucial to ensure that, since the moment of its production, conditions are created to describe and storage data, and that management plans keep them in systems with updated securities.
Thus there are two principles followed within the TAIL project: the monitoring of data produced in projects is made since its creation or collection, and the organisation and description are made with the close collaboration between researchers and data managers.
The data value of each subject depends very much on the metadata, or in other words, on the information that allows others, over time, to interpretate and reuse them. The TAIL project team has a strong part of their work done together with project's teams, supporting the description and the storage of data. INESC TEC has already an experimental repository for that purpose.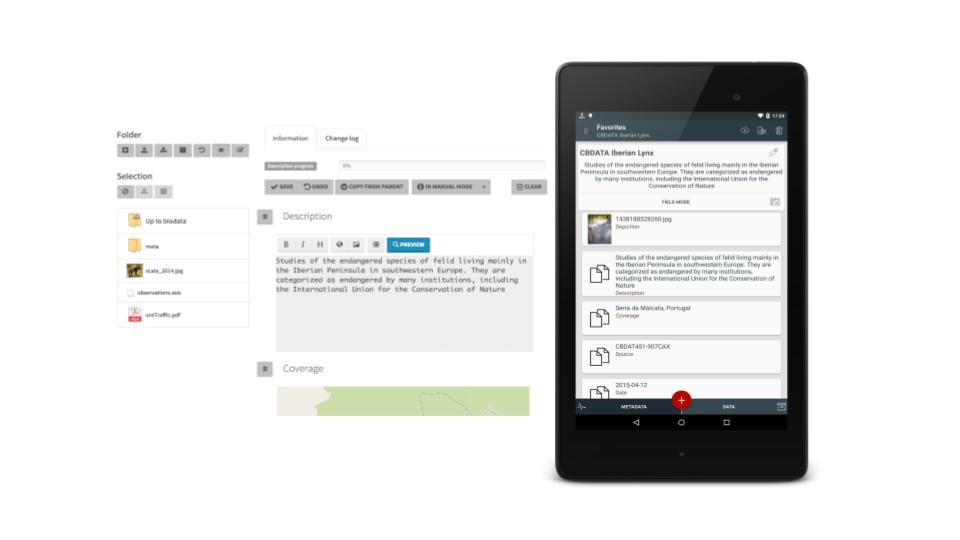 Dendro and LabTablet – the beginning of the research
The monitoring of project data and the collaboration in its description led a group of INESC TEC and FEUP's researchers to study the workflows of data management and develop tools to support them.
Dendro (http://dendro.fe.up.pt/) is an interface that storages, describes and deposits data. LabTablet complements it as an electronic laboratory notepad, with a semi-automatic collection of metadata and synchronisation with Dendro.
Dendro offers an environment based on ontologies where it is possible to organise, describe and publish sets of data, in which metadata are ready to be used as linked open data. Dendro is directly extensible to specific ontologies of domain to describe and share in a collaborative way sets of data within the respective communities.
The platform is currently being tested in research groups of UP and INESC TEC, and in collaboration with the European network EUDAT.
LabTablet is a mobile application that acts as an electronic laboratory notepad, facilitating the metadata production. With a tablet or smartphone, it is possible to automatically collect essential metadata, such as the location or data from the device's sensors.

TAIL - Research data management from creation to deposit and sharing
The development of these tools started at the InfoLab (FEUP) and continued in project TAIL, that counts with INESC TEC, CIBIO-InBIO and UP as partners.
The project, that runs until next year, besides continuing to create ontologies to describe data in multiple domains, is linking data and metadata created by the researchers and the deposit platforms being built, national and internationally.
TAIL promotes the accurate data description considering the deposit and the reuse, analysing multiple situations in areas where sectorial infrastructures are already in place. Its focus is the so called «long tail» of science, the several research groups that together produce a substantial amount of data.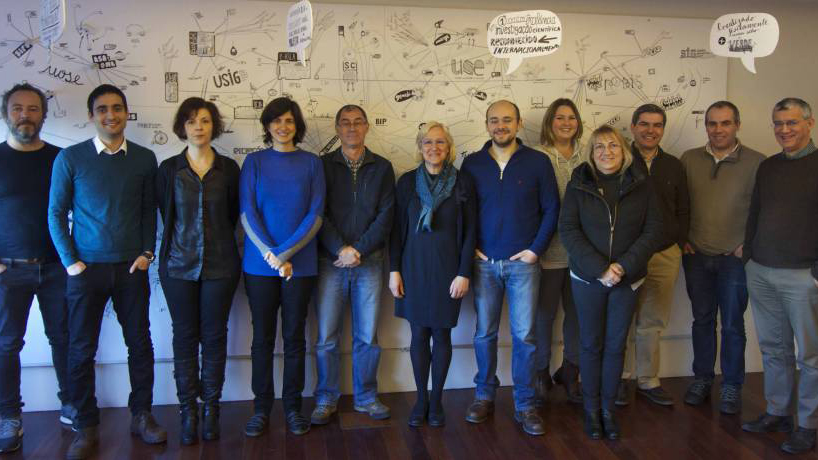 At the end of this three year's project, it is expected that «some dozens of research groups have managed successfully the data they created and have gathered the benefits of having published them, searchable and quoted», states Cristina Ribeiro.
The project team includes a group from INESC TEC (Cristina Ribeiro, João Correia Lopes, Gabriel David, Carla Lopes, João Rocha da Silva, João Aguiar Castro, Nelson Pereira, Yulia Karimova, Joana Rodrigues, Artur Rocha) that has been working on the development of an environment for data curatorship and on the metadata model design for research data based on ontologies. Some team elements have also relevant work made in the European infrastructure EPOS and WindScanner.eu.
CIBIO-InBIO is involved in the definition of metadata models for biodiversity and leads the Portuguese consortium partner of the European e-infrastructure LifeWatch in the research domain for biodiversity and ecosystems.

INESC TEC participates in the final conference of project EUDAT
Dendro and LabTablet are part of the 22 pilots developed in the scope of the EUDAT Collaborative Data Infrastructure, a European infrastructure of data services and research support resources.
INESC TEC collaborates in the project and acts as a pilot, having completed at INESC TEC and UP the interface experience of Dendro and LabTablet regarding the services B2SHARE, B2FIND and B2DROP of EUDAT.
The two applications were highlighted at the EUDAT international conference "Putting the EOSC vision into practice: Sharing & preserving research data across disciplines and borders", that took place in Porto between 22 and 25 of January. The TAIL team presented the pilot final results, as well as two demonstrations and a poster.
The INESC TEC researchers mentioned in this news piece are associated with INESC TEC and UP-FEUP.