ICCV 2021: CDpath workshop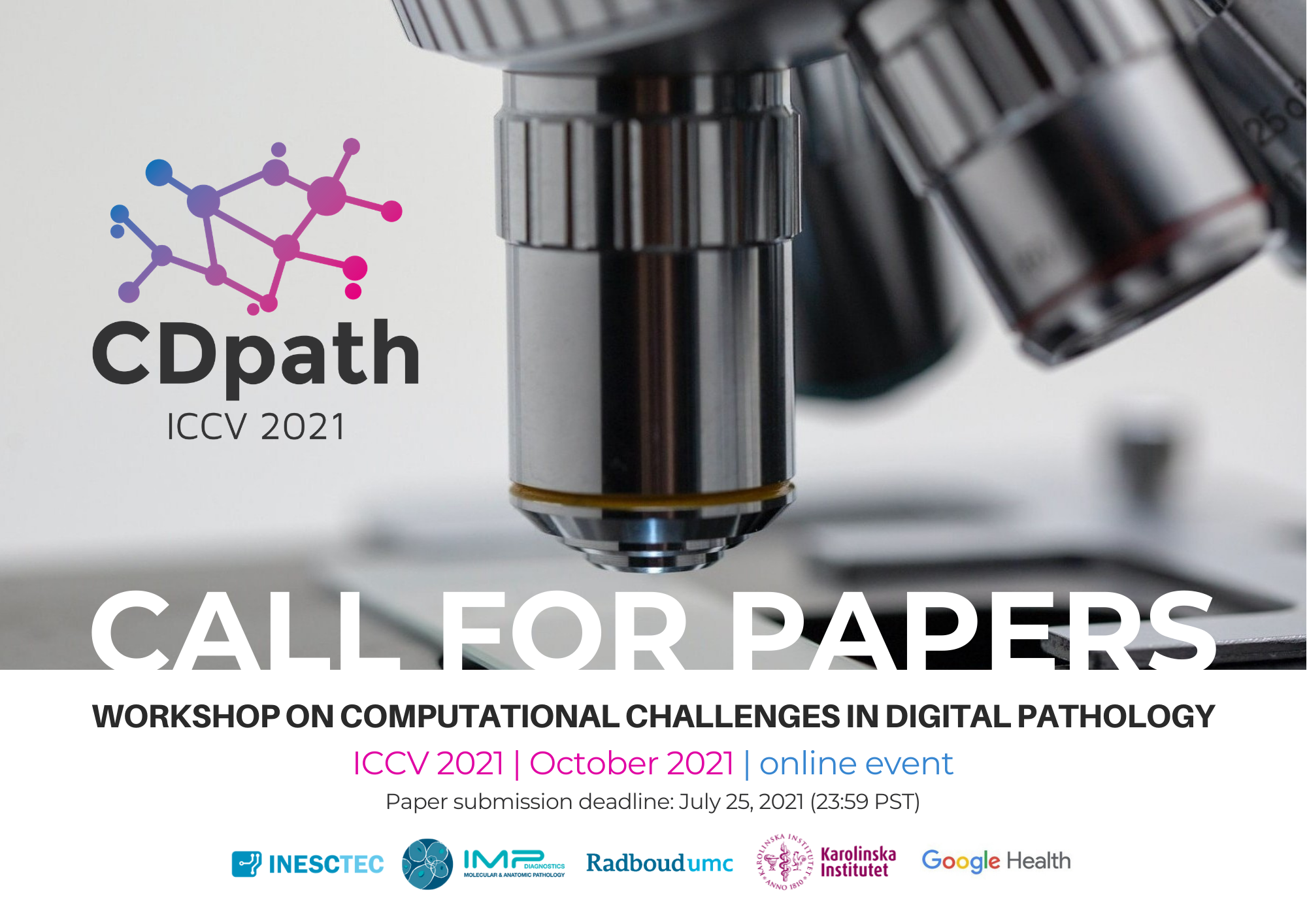 About the Workshop
The ICCV 2021 workshop on Computational Challenges in Digital Pathology (CDpath) aims at providing a platform for scientific discussion and presentation of ideas on computational pathology, introducing the challenges of the field. This workshop will focus on the integration of computer vision and artificial intelligence into the digital pathology workflow.
CDpath is jointly organised by INESC TEC (Portugal), IMP DIagnostics (Portugal), Radboudumc (The Netherlands), Karolinska Institutet (Sweden) and Google Health (USA).
For more information please visit http://vcmi.inesctec.pt/cdpath_iccv
Important Dates
Submission deadline: July 25, 2021
Author notification: August 11, 2021
Camera ready deadline: August 17, 2021
ICCV 2021 conference: October 11-17, 2021
CDpath workshop: October, 2021 (T.B.A.)
Keynote Speakers
Anne Martel, Sunnybrook Research Institute | University of Toronto | Pathcore Inc., Canada
Martin Stumpe, Tempus Inc., USA
Interest Topics
The CDpath workshop welcomes works that focus on the computational pathology challenges, such as, but not limited to:
Semi/unsupervised learning methodologies in computational pathology
Detection, classification and segmentation of tissue structures
Disease diagnosis, grading and prognosis
Treatment response prediction
Immunohistochemistry scoring
Staining quality assessment and standardization
Detection of tissue biomarkers with predictive/prognostic value
Whole-slide image registration
Explainable AI for computational pathology
Scalable techniques for whole-slide image processing
Applications for computational pathology in the clinic
Paper submission
Submitted manuscripts should be anonymised and formatted according to the ICCV style, with a maximum of 8 pages, including images and tables and excluding cited references.
Accepted papers will be published in IEEE Xplore, in conjunction with ICCV 2021 proceedings.