Prototype for the promotion of forest biomass selected as best practice by European consortium
ForScope, a prototype developed by a team of researchers from INESC TEC's Centre for Enterprise Systems Engineering (CESE), was selected as best practice by the European Rosewood consortium, which identifies and promotes the best tools and methodologies to improve wood mobilisation in Europe
25th August 2020
The main objective of this prototype decision support system is to support the planning of operations in terms of gathering and transporting wood, thus reducing costs and improving the efficiency of supply chains.
This way, forestry companies and service providers can manage their workforce more appropriately, and the entire logistics of wood and forest biomass can become more competitive. This contributes to increasing the use and relevance of forest biomass and wood resources, leading to a reduction in the risks of rural fires.
The prototype started to be developed at INESC TEC, within the scope of the European project FOCUS - Advances in Forestry Control and Automation Systems, led by the Institute in 2014-2016. At that time, the team developed optimisation models to support the planning of forest exploitation, wood transport and management of raw materials, with case studies in Portugal, Finland and Switzerland. Since then, the work group has adapted and improved this element (named Optimisation Engine) for different case studies, including the optimisation of routes for transporting products to customers. The team also combined it with other projects and processes: the return of wood to the factory, in the Easyflow project; the digital market for forest biomass, in the Biotecfor project; and the management of a forest park's resources, in the Gotecfor project. More recently, the work focused on the development of a web app, with intuitive interfaces adjusted to the needs of different target audiences e.g. by producers, biomass consumers and logistics service providers. These interfaces enable the exchange of data between agents, multiparty planning, generation of alternative optimisation scenarios and the reading, analysis and sharing of the ensuing plans.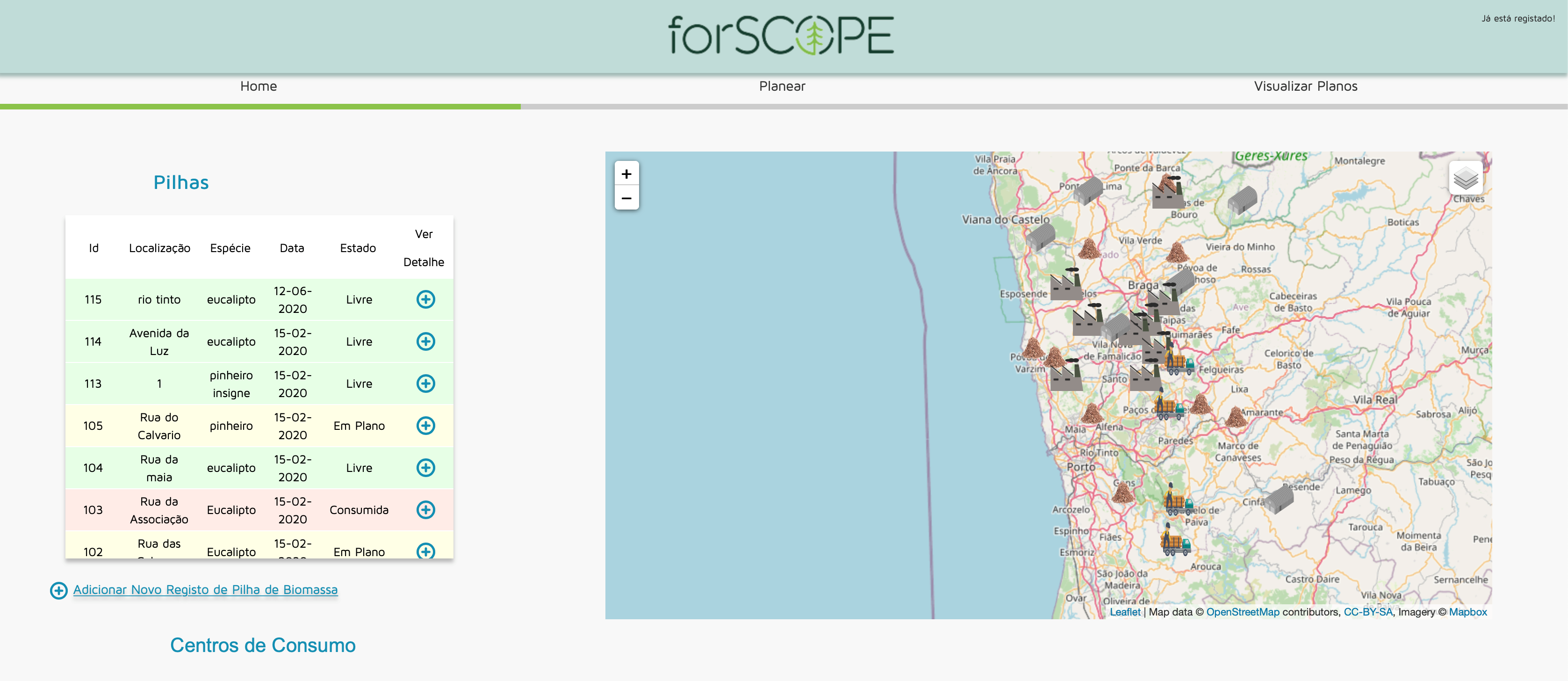 Alexandra Marques has been managing the team responsible for the development of the prototype, currently composed of Carolina Catorze, Ricardo Soares and Reinaldo Gomes (CESE). According to the researchers, ForScope stands out not only for the absence of similar solutions in Portugal, but also for the fact that it promotes a greater connection between biomass producers and their consumers, whose needs were not being addressed.
ForScope is also characterised by its topicality and contribution to bioeconomy, since the planning of forest biomass management comprehends several environmental, economic, administrative, legal and social aspects, as society has been emphasising the crucial role of biomass as a primary energy source worldwide. This it, it will be possible to promote the enhancement and use of forest biomass.
The INESC TEC researchers mentioned in this news piece are associated with INESC TEC and UP-FEUP.