"CTM Award for Best Master Thesis" awarded to João Pereira
The thesis entitled "Fingerprint Anti Spoofing – Domain Adaptation and Adversarial Learning", developed as part of the Master in Bioengineering at the Faculty of Engineering of the University of Porto (FEUP), was awarded «CTM's Best Master Thesis of 2020». João Pereira is the author of the work, supervised by Jaime Cardoso and Ana Filipa Sequeira, researchers of INESC TEC's Centre for Telecommunications and Multimedia (CTM).
07th August 2020
In order to acknowledge the high merit works hosted at CTM, this initiative encouraged young Portuguese researchers to disclose the work developed within the scope of master's theses developed at the Centre. "It is necessary to stimulate and credit the quality and impact in the most diverse activities", said Jaime Cardoso and Filipe Ribeiro, both from the CTM's Coordination. "This award is a contribution in that direction, by acknowledging young Portuguese researchers who, with dedication and professionalism, worked to achieve levels of excellence in their master's work. The winner of the "CTM Award for Best Master's Thesis 2020" is an unequivocal example of these qualities", they added.
The award comprehends a certificate, the association of the award winner to CTM for one year and the participation in an international conference, to be selected later.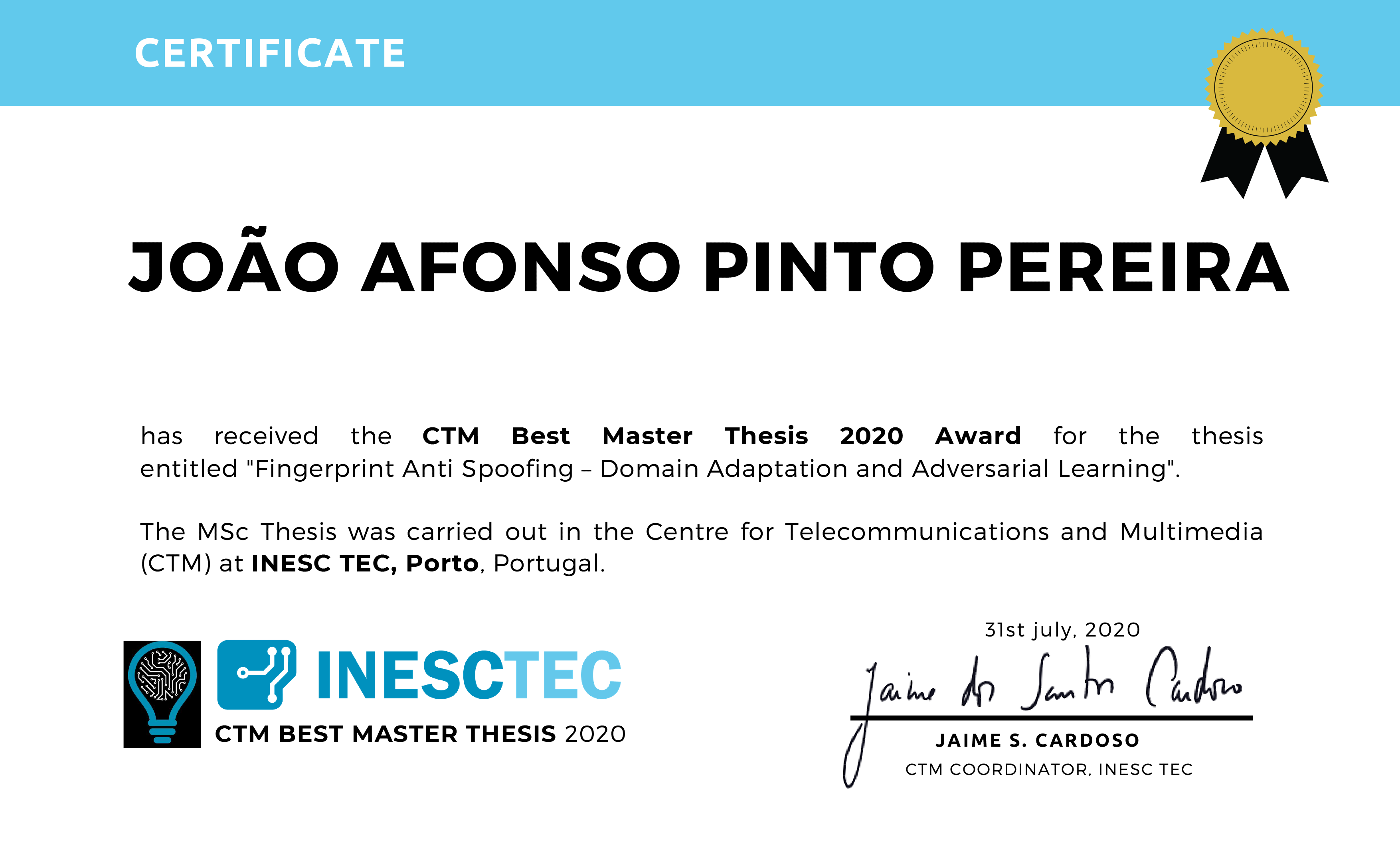 CTM hosts a wide range of Master's theses on an annual basis, in scientific areas that include Optical and Electronic Technologies, Wireless Networks, Multimedia and Communication Technologies, Computer Vision and Machine Learning.
The theses received by CTM that fulfil the requirements are automatically eligible for the Best Thesis Award and members of CTM's Scientific Council evaluate the papers. After a brief presentation of the work, the Centre's Scientific Council decides the winner.
The prize "Best Master Thesis CTM 2020" was awarded on July 31, in a joint event with the closure of the summer internships CTM, another initiative of the Centre.
The INESC TEC researcher mentioned in this news piece is associated with INESC TEC and UP-FEUP.